Tripawds is a user-supported community. Thank you for your support!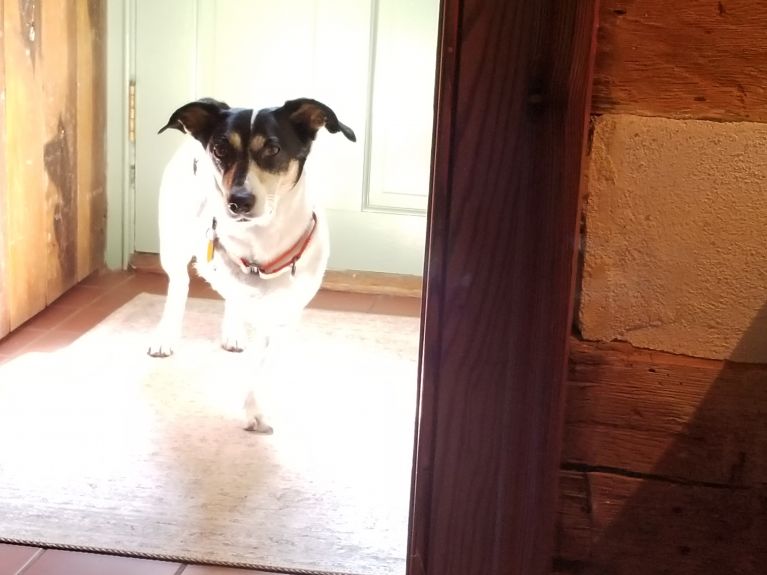 We are cranking through these 18 sessions and Buster is still going strong.  I am getting tired of this routine, it feels like a very bad Groundhog Day to be back in the vet every morning, but then I remind myself I'm lucky to be able to do this for my dog and I'm lucky he seems to be tolerating treatment quite well.
still no visible radiation burns although it is possible some of the skin is a little pink.  Mood and energy still good.  There is a yellow lab visiting the farm I'm staying at and Buster did a lot of running around with her last night. He seemed very happy!
Unfortunately, Buster ended up having pretty significant intestinal distress after bedtime last night (diarrhea), and I had to take him out about every 1.25 hours from 1 a.m. onward.  that wasn't fun.  he's doing much better today and they gave him extra hydration at his morning radiation session today — including the subcutaneous hydration that makes him look like he has a small camel hump.  he'd had that once before and it is pretty weird looking.
We don't know if his stomach issues were side effects, or could be because I gave him a brand of jerky yesterday I hadn't give him before.  I'll be steering clear of new treats at this point until we get safely past radiation.
Tomorrow will be my last day and night at the farm before completing the last sessions by just driving back and and forth from my house in DC to the treatment center in Virginia.  Not quite the home stretch yet, but getting there!